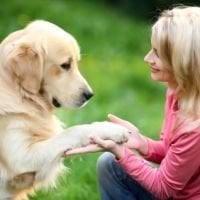 Green Do's & Don'ts
Do use all-natural yarn when knitting your doggie a sweater.
Do frequent your nearby dog park for a free afternoon of outdoor fun. Don't forget to bring along your recyclable, eco-friendly doggie waste bags.

Don't think going green is an extreme lifestyle. Simple steps can help you and your dog become more environmentally aware and appreciative of the world around us.
Do seek eco-friendly care advice from your veterinarian and don't be afraid to ask lots of questions.
Everyone seems to be environmentally conscious on some level, whether it is by recycling or driving more fuel-efficient cars or using less water; most everyone is doing their part to be eco-friendly. It should then be no surprise that this greener way of living has spilled over to the way we care for our canine friends too.
We can make conscious choices and small efforts to care for our planet and ourselves in our everyday lives, and we can incorporate these habits into the lifestyle of our canine companions as well. Not only will our efforts help maintain healthy living for our dogs, it will also help maintain the environment in which we all live.
Simply using earth friendly products such as pet shampoo, doggie clothing or even biodegradable waste disposal bags made out of organic or recyclable materials, your dog will be on his way to going green without drastically changing their everyday lives.

Just as with humans, dogs too can partake in an eco-friendly diet. There are many brands of dog foods and treats on the market which use all-natural, "green-footprint" ingredients. Consuming these types of products gives your dog the chance to be part of the greener way of living. Be sure to connect with your veterinarian before making any drastic changes in your dog's diet.
The care we give our dogs through diet and grooming are the same habits that can be re-considered to be more eco-friendly. What may seem like an insignificant step towards a greener way of living is actually already being enforced in many grooming centers and kennels. Some even have taken their efforts a step further by providing dogs aromatherapy and all natural botanical oils so that our canine companions can enjoy an eco-friendly and relaxing day at the spa. Again, be sure to consult your veterinarian with any changes to your dog's care or grooming practices.

Whether eco-friendly or not so much, simple or extravagant, the care we provide for our animals should be something seriously considered. With the help of your professional veterinary team, continue to learn about and implement daily pet care practices that allow your dogs to thrive in a more environmentally friendly lifestyle.