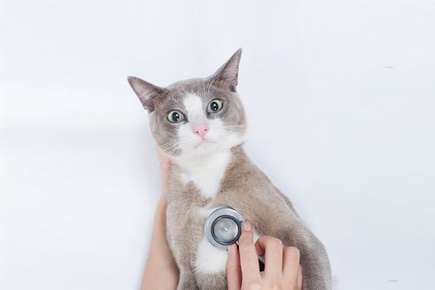 Cats are living longer and longer. This is due to better medical care and the fact that more cats are living only indoors. These cats commonly live up to 15 to 18 years of age, with a few living into their twenties. The oldest cat on record lived to be 38!
The two most common diseases of the geriatric cat are kidney disease and hyperthyroidism. It is said that if a cat lives long enough, they will get one or both of these problems.
Hyperthyroidism
Hyperthyroidism usually occurs in cats older than eight years of age. The older the cat, the more likely the disease. A tumor (97% of the time it is benign) causes too much thyroid hormone to be produced. No one knows why this tumor forms. The tumor itself doesn't cause a problem, the symptoms are due to the excess of hormones. Common symptoms are weight loss even though the cat is ravenous, chronic vomiting, soft stools, fast heart rate, and some develop a heart murmur.
There are several treatments for hyperthyroidism. A special diet made by Hill's Prescription Diet, Y /D, has been found to be very successful if your feline will eat it. This diet is extremely low in iodine, and it has to be fed exclusively in order to work. Other treatments are the oral drug methimazole, surgery to remove the mass, or radio-active Iodine. Surgery has fallen out of favor because often both sides of the thyroid gland are affected. Radio-active Iodine has the advantage of being a one-time treatment (at least 97% of the time it is), but it is costly and needs to be done at a specialty clinic where the cat is hospitalized for a few days.
There is an ironic phenomenon where the disease of hyperthyroidism sometimes masks kidney disease. The kidney values may look fine until the veterinarian starts to treat the thyroid disease. If both diseases are present, the Y/D diet is good as it is also low in protein and phosphorus that is needed for renal disease. But if Y/D is not an option, then a veterinarian may try methimazole next. If the kidney values are still OK even when the thyroid disease comes under control, then we know the cat is a candidate for radioactive iodine if that is desired, or the cat can be continued on a full dose of methimazole. If the kidney values start to increase as we get the thyroid under control, then we know we can't fully treat the hyperthyroidism, we just try to reach a balance between the two.
Kidney Disease
Kidney disease is also very common. Symptoms are weight loss, vomiting, soft stools, and a poor appetite. Anemia and excess phosphorus in the blood commonly occur as secondary problems. Blood and urine tests will determine how severe the disease is, and what level of treatment is needed. A diet made for renal disease can really lengthen the time before the signs get worse. A more severe case may need hospitalization with intravenous fluids. After the cats are stabilized, some veterinarians teach their clients how to give subcutaneous fluids at home to their cats. A few cat owners have even had kidney transplants done for their beloved cats at teaching hospitals. This is very expensive, of course, and they have to adopt the donor cat.
Cats are wonderful pets, but they are very good at hiding their symptoms. It is important to have an annual exam and laboratory tests to catch these diseases early when it is easier to get them under control.