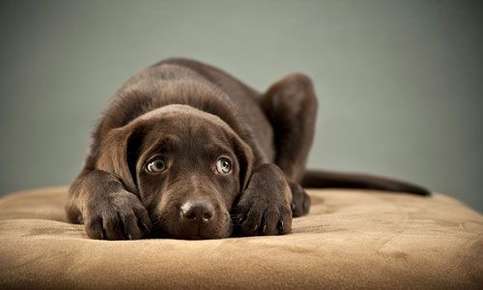 Lengthy bouts of vomiting and diarrhea can be a sign that your pet has gastroenteritis, a common condition that occurs when the lining of the stomach and intestines becomes irritated. Since frequent diarrhea and vomiting can lead to dehydration, a visit to the veterinarian is a good idea if you notice any of the signs of gastroenteritis.
What Causes Gastroenteritis?
Gastroenteritis can occur if your pet eats something it should not, such as garbage, non-food items or feces. Although giving your pet a few scraps from the dinner table may seem harmless, eating people food can cause gastroenteritis. Unfortunately, some foods that you enjoy can irritate your pet's gastrointestinal system. Other causes of gastroenteritis include:
Bacterial or parasitic infections
Viruses
Allergies
Metabolic disorders
Reaction to a medication
Eosinophilic leukemia
Inflammatory bowel disease
What Happens if My Pet Becomes Dehydrated?
Dehydration occurs when your pet loses fluids faster than it can replace them. Your pet also loses electrolytes in addition to fluids. Electrolytes are electrically charged minerals that regulate blood acidity, nerve and muscle function, and the body's hydration level. If dehydration is not treated promptly, it can lead to kidney failure and even death. These symptoms may occur if your pet is dehydrated:
Sunken eyes
Dry mouth and nose
Fatigue
Depression
Loss of appetite
Increased thirst
Decreased urine production
Elevated heart rate
Panting
Changes in skin elasticity (When you lift you pet's skin and let it go, it should quickly revert to its original position. If your pet is dehydrated, the skin will return to the original position very slowly.)
How Will My Veterinarian Diagnose Gastroenteritis?
Your veterinarian will perform a complete examination, which will probably include a few diagnostic tests, including fecal testing for parasites. A blood test may be ordered to determine if your pet's blood cells are normal and to check for signs of problems with your pet's organs. X-rays and ultrasounds can give your pet's doctor a better view of the gastrointestinal system. If you furry friend has swallowed a non-food item, the outline of the item will probably appear in the X-rays.
During the visit, you may be asked if there were any changes to your pet's normal routine, such as travel or recent changes in food. Your pet's veterinarian may also want to know if your dog or cat was exposed to pesticides or cleaning products, or recently began taking a new medication or supplement. Because the cause of gastroenteritis isn't always immediately apparent, any information you can provide will help the veterinarian make a diagnosis.
How is Gastroenteritis Treated?
Replacing lost fluid is a priority if your pet has gastroenteritis. Your veterinarian may recommend that your pet receive subcutaneous (under the skin) or intravenous fluids during your visit. Additional treatment will depend on the cause of the vomiting and diarrhea. For example, antibiotics can help treat bacterial infections, while surgery may be needed if a foreign body is stuck in your pet's gastrointestinal tract.
Whether you are concerned that your pet may have gastroenteritis or another illness, or it's time for your pet's annual examination, we're committed to helping you maintain your furry friend's health. Call us if you have questions or would like to schedule an appointment.
Sources:
Pet Health Network: Gastroenteritis in Dogs, 10/21/11
http://www.pethealthnetwork.com/dog-health/dog-diseases-conditions-a-z/gastroenteritis-dogs
PetMD: Stomach and Intestinal Inflammation in Dogs
http://www.petmd.com/dog/conditions/digestive/c_dg_eosinophilic_gastroenteritis_in_dogs_diarrhea?page=show