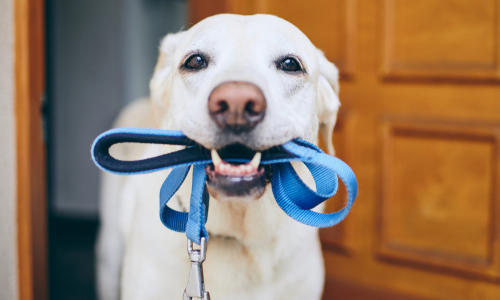 Making Walks with Your Dog More Enjoyable
You've probably heard people joke, "Are you walking your dog, or is your dog walking you?" In fact, your dog might actually be controlling the walk if it never received any leash training. An untrained dog may pull on the leash or try to dash off to chase a squirrel while you struggle to hold on to the leash. Fortunately, these problems can usually be corrected with a little training.
How Training Makes Walking Your Dog Easier
Just like children, dogs don't innately understand the rules of social conduct when they're born. With gentle corrections and explanations, kids soon learn not to touch the stove or grab a toy out of the hands of a sibling. Dogs also need a little help to understand what you expect of them.
During leash training sessions, your dog will learn how to walk calmly at your side without pulling or sniffing every patch of grass along the way.
What You Can Do About Pulling
Walks can be stressful if you don't feel that you're in control of your dog. Unfortunately, stress isn't the only issue if your furry friend pulls on the leash. Pulling can increase your risk of falls and injuries ranging from strains and sprains to fractures. If you're older and have started walking your dog as a way to stay healthy, avoiding pulling is particularly important.
Researchers at Penn Medicine discovered that fractures related to dog walking doubled in patients 65 and older between 2004 and 2017. Hip, arm, wrist, finger, hand, and shoulder fractures were the types of breaks most commonly reported.
When your dog begins to pull, one of these methods recommended by Rover.com may be helpful:
Make an About Turn. Change directions once your dog reaches the end of the leash and you notice a slight strain on the leash. When your dog changes direction with you, offer a treat or word of praise.
Don't Move. Stop moving as soon as your dog begins pulling on the leash. Once the dog stops pulling, start walking again. Constantly repeating this action will teach your dog that walks won't continue until the pulling stops.
Try a Harness: A no-pull harness may be an effective option if your dog still pulls. Gentle pressure placed on the chest or legs reminds your dog not to strain against the leash.
When you work on training your dog to walk properly on a leash, keep these things in mind:
Positive Reinforcement Is the Best Choice. Training sessions that use praise and rewards as incentives are most effective. If your dog knows that doing what you want will result in a treat or praise, it will be much more likely to follow the rules you've established.
Patience Is a Must. Your dog probably won't master walking on a leash after just one training session. In fact, you may need to spend a few weeks or months helping your dog learn the ins and outs of leash walking.
Try Some Pre-Walk Exercise. Walking calmly on a leash may be difficult if your dog has been cooped up in the house all day. Help your pooch expend that excess energy by throwing a ball or flying disc in the backyard for 20 minutes before you start your walk.
Don't Use a Retractable Leash When Training Your Dog. Retractable leashes may only reinforce pulling behavior. Every time your dog pulls, the leash unwinds a little more, teaching your dog that pulling gets results.
Consider Obedience Training. During obedience training, you'll learn how to teach your dog commands and also practice how to walk on a leash. Commands are particularly important when walking on a leash. For example, when you say, "leave it," your dog will know it's time to stop sniffing an aromatic patch of urine-scented grass or ignore a squirrel. The "slow" command tells your pet to slow down, which will reduce leash pulling.
Walk Your Pet Month, observed every January, is an excellent time to work on leash skills. Learning how to walk on a leash will make walks more pleasant and help your pet avoid injuries from cars and other animals. If your pet does become injured or develops a health issue, let us know. We'll schedule a convenient appointment to examine your dog and discuss your concerns.
Sources:
Penn Medicine News: Bone Fractures Increasing as Seniors Walk Dogs to Stay Active, 3/6/19
American Kennel Club: 3 Ways You Might Be Ruining Your Dog's Walk, 7/28/19
Rover.com Have You Been Walking Your Dog Wrong This Whole Time?
Dog Time: Good Leash Behavior: How To Train Your Puppy Or Dog To Walk On A Leash