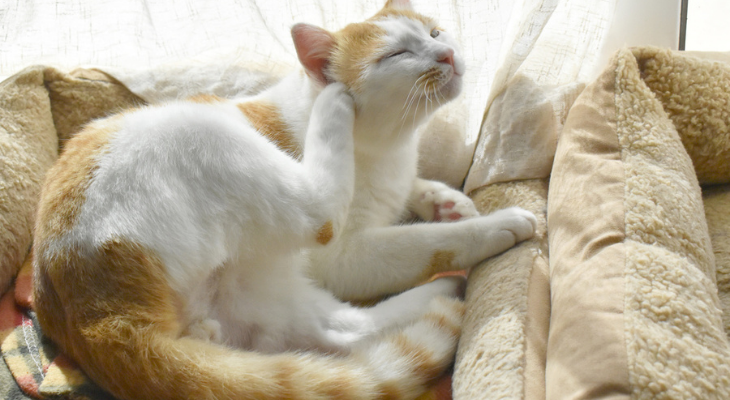 Does Your Cat Have a Skin Allergy?
Are you concerned about changes in your cat's skin or coat? Hair loss, sores, or red spots could be signs that your pet has an uncomfortable skin allergy. Your favorite feline's veterinarian offers treatments that will stop itching and inflammation and prevent future allergy flare-ups.
What Are Skin Allergies?
Skin allergies happen when your cat comes in contact with, eats, or breathes in an allergen. Allergens aren't inherently dangerous or toxic. In fact, they're harmless things like pollen, saliva, dust, or food. Unfortunately, your pet's immune system mistakenly treats allergens as dangerous threats to your cat's health. Once an allergy is detected, your cat's immune system produces antibodies that attack the substance. Histamines, natural chemicals released during an allergy attack, cause allergy symptoms ranging from itchy skin to watery eyes.
Signs of Skin Allergies in Cats
Itching is a common skin allergy symptom in cats. In an attempt to stop the itch, your cat may resort to scratching, frequent grooming or biting the itchy areas. Eventually, grooming and scratching can lead to hair loss and bald spots.
Scratching and biting may also cause open sores on your pet's body, which can be difficult to see through your cat's hair. Does your cat flinch when you pet it? You might have accidentally touched an open sore or scab. Sores and inflamed red skin can occur anywhere on your pet's body but are most obvious on the face.
Common Causes of Allergies
Feline skin allergies can be caused by:
Fleas: Allergies to flea saliva cause crusty bumps that usually appear on your cat's back, neck and face. Flea allergies have become more common in cats in recent years, according to Banfield's 2018 State of Pet Health Report. Over the course of 10 years, flea allergies in cats increased by 67%, according to the report. Fleas aren't just a problem if you have an outdoor cat. The insects can catch a ride on your clothing and jump onto your pet as soon as you walk through your front door.
Seasonal and Environmental Allergies: These types of allergies are also becoming more common in cats. The Banfield report notes an 11% increase in 10 years. Your cat can develop skin symptoms if it's allergic to pollen, mold, dust, dander, or even the products you use to keep your home clean. Seasonal allergies can affect both indoor and outdoor cats, as allergens can easily enter your home through an open window or on the bottom on your shoe.
Food Allergies: Your pet's skin issues might be caused by an allergy to a pet food ingredient. Proteins like chicken and fish are most often responsible for allergic reactions in cats, according to PetMD.
How to Treat Your Cat's Skin Allergy
Treatment for skin allergies depends on the type of allergies. If your cat has a flea allergy, your vet can recommend or prescribe shampoos or topical medications that kill fleas and flea eggs. You'll also need to use sprays or other products to kill the fleas in your home and yard. If your cat has fleas, it's safe to assume that your other pets have them too. Treating all the pets in your home for fleas offers a simple way to prevent skin allergy symptoms. Monthly topical flea treatment will keep your pets free of fleas.
If food is the suspected culprit, your pet's veterinarian may recommend an elimination diet to determine which foods are responsible. Your pet will start by eating a special type of food that's less likely to cause allergy symptoms. Over the course of several weeks or months, you'll gradually introduce new proteins and ingredients one by one. If a particular ingredient causes the symptoms to recur, you'll know to avoid foods with that ingredient in the future.
Environmental and seasonal allergies can be controlled with allergy medication. Both shots and oral drops are available to treat allergies.
No matter what the cause of the skin allergy, soothing your pet's itchy skin is a priority. Your pet's veterinarian will prescribe medication that relieves inflammation or decreases itching by stopping the allergic reaction. Infected sores may need treatment with antibiotics.
Are you concerned about your cat's skin allergy symptoms? Give us a call to schedule an appointment.
Sources:
Merck Manual: Flea Allergy Dermatitis, 4/2021
Merck Manual: Allergies of Cats
Cornell University College of Veterinary Medicine: Feline Skin Disorders